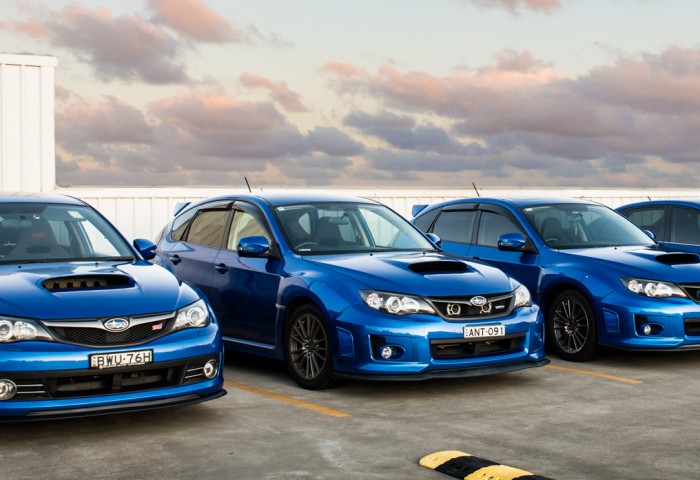 Engine:
Standard Subaru EJ255 Motor
Induction:
Standard IHI VF52 turbocharger @ 19psi
Process West Verticooler
Process West Silicone Inlet Pipe
Process West 3″ Cold Air Intake
Exhaust:
Invidia Q300 Cat Back Exhaust System with Titanium Tips
Invidia Dump Pipe
Power:
Torque:
Electronics:
Standard ECU tuned by MSR
Transmission:
Standard WRX 5 Speed Gearbox
Other Modifications:
Pierburg 3 Port Boost Solenoid
GFB Blow Off Valve
What made you decide to modify your car?
I was looking for more power and had never modded a car before. It was my first time and I loved it! Was a great little project and the rewards…very very satisfying!
Whats the next stage with your car?
Next on the list is brakes and suspension need to back the power up! I wish I had saved and done it all in one hit!
Do you attend any track days or other racing events? If so how have you done?
Yes, I did a Wednesday Eastern Creek Drag night the results were 12.8sec @ 172.1 KM / 106.9 MPH
Whats your favourite part about the car?
My favourite part of the car is the pure rexy rumble you get from the exhaust and the suction from the cold air intake. You just can't beat it! Crank the windows down listen to that turbo spool on the highway!
What would be your advice for people getting wanting to modify their Subaru?
Before modding your car it's best to save up and do it all at once, you will thank yourself later. Make sure you do your homework on which parts you want and need to ensure the car performs to its best ability. When modifying take into consideration your gaining power so you need to accompany this with the correct suspension and braking systems. Don't be impatient.