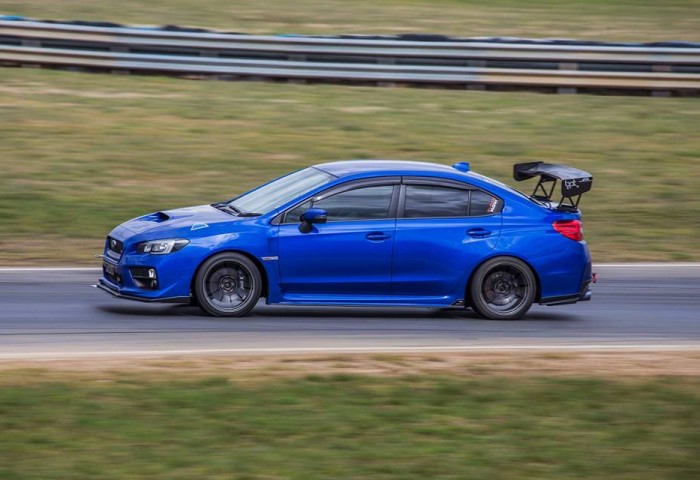 Engine:
MSR built 2.5L
Closed decked block with Gas Rings
Ported heads with 1mm oversized valves
14mm Headstuds
PWR 55mm Radiator
Tomei 258 Camshafts
Induction:
Blouche 1.5 XTR 10cm turbocharger @ 23psi
Process West Top Mounted Intercooler
Process West Cold Air Intake
Process West Silicone Inlet Pipe
Exhaust:
PSR Unequal Length Headers
Invidia g5 Titan Titanium Cat Back System
Invidia Dump Pipe
Power:
270kW – 98RON
320kW – E85
Torque:
800Nm – 98RON
1000Nm – E85
Electronics:
Standard ECU tuned by MSR
Transmission:
Standard DCCD Close Ratio STI 6 Speed
Other Modifications:
Walbro 460 Fuel Pumps
1300cc ID Injectors
Process West TVG Delete Kit
Process West Oil Cooler
Peirburg 3 Port Boost Solenoid
What made you decide to modify your car?
From day 1, I knew exactly what my plans were for the new model STI. To have a quick street car, but mainly, to have a quick track weapon, while still being able to maintain both aspects.
Whats the next stage with your car?
Car safety is my next priority, considering a racing seat, possibly a roll cage system. Anything that will help me improve my lap times.
Do you attend any track days or other racing events? If so how have you done?
I have attended multiple racing events in this cars lifetime. I have competed at; Eastern Creek, Wakefield Park, Phillip Island, Lakeside, Calder Park in club level SuperSprint. I have also put down a 11.8sec pass at Eastern Creek Drags in the early stages of this cars build.
Whats your favourite part about the car?
There are so many things to love about this car, if I was to choose one it would have to be the cars performance on the track. I have so much more to learn to get the full potential out of this car, but with what I can do now, it just amazes me.
What would be your advice for people getting wanting to modify their Subaru?
What is the main reason for modifying your car? Track? Street? Show? Once you have determined that, plan for what you would like to modify. Nothing is worse if 2 months down the track you replace a component because you didn't do your research, or you weren't sure what you wanted to achieve from your car. Take the time to plan your modifications, do your research and you will come out on top.