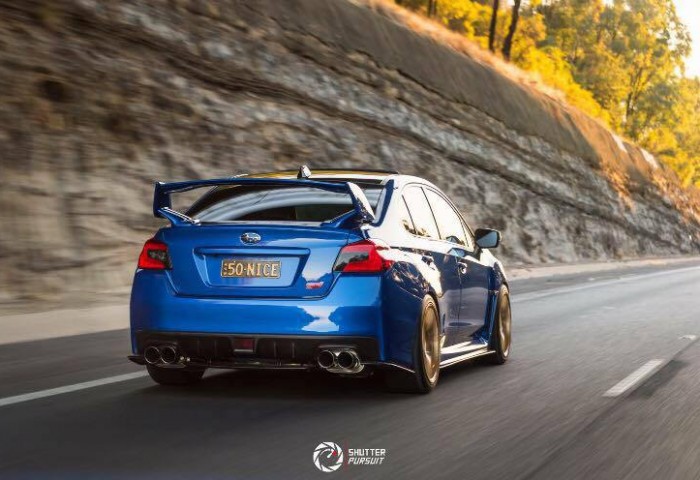 Engine:
MSR built 2.5L
Closed decked block
Ported heads with 1mm oversized valves
14mm Headstuds
Mishimoto Dual Row X Line Radiator
Kelford 272 AVCS Camshafts
Induction:
Blouch Dominator 2.5 XTR 10cm turbocharger @ 29psi
Process West Top Mounted Intercooler
Perrin Silicone Inlet Pipe
Process West 3″ Cold Air Intake
Exhaust:
PSR Unequal Length Headers
Invidia Q300 Cat Back Exhaust System
Invidia Dump Pipe
Power:
Torque:
Electronics:
Standard ECU tuned by MSR
Transmission:
Standard DCCD STI 6 Speed
Other Modifications:
Tuned on E85
TGV Delete Kit
Walbro 450lPh Fuel Pump
1300cc ID Injectors
GFB Blow Off Valve
Process West Oil Cooler
Custom Intercool Sprayer Mod
What made you decide to modify your car?
Decided to modify it as i wanted to have a stand out 2015+ WRX STI that was well known in the community and had enough power to be a weapon on the street, and hold its own at track days and drag racing at eastern creek. Also to surprise people as the car still has a classic Subaru exterior and is a fairly new car, it is commonly underestimated.
Whats the next stage with your car?
The next stage is to upgrade rotors and brakes, play around with the handling like anti lift kits and sway bars and strut bracing. Exterior modifications I am happy with apart from perhaps an ARP spoiler and splitter kit.
Do you attend any track days or other racing events? If so how have you done?
No track days however best time at eastern creek drags was 11.3 @ 129 MPH
Whats your favourite part about the car?
my favourite part about the car is it has the modern Subaru look, gold and blue, most things are custom from the brake colour and decals to the personalised "SO NICE" plates. Its not a stanced out Subaru, its not stock, its well rounded with a lot of power and no lag basically with the current set up. Its new and refined and has power to boot i love it
What would be your advice for people getting wanting to modify their Subaru?
My advice for people to start modifying is to start with the basics, exhaust , intake and tune. Learn the car and enjoy the classic boxer engine noise. If your going into the build motor game then setting aside funds to do it once and properly is the way to go. Pick a power you want and overbuild the block, go for reliability and do not skip out on things that help it run cool and efficiently. This includes things like oil coolers to water spray to e85 and sensors ( AFR/Boost/coolant/oil temp ). Ask yourself lastly, street car set up, drags or track , find a turbo and power range you would like and go for it.