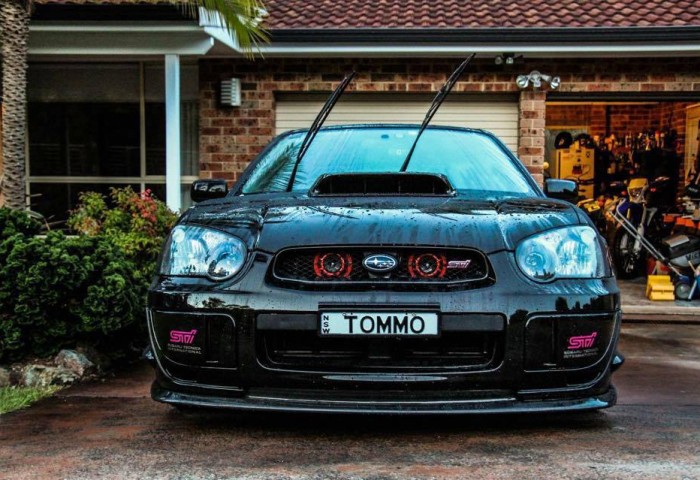 Engine:
MSR built 2.5L
Closed decked block
Ported heads with 1mm oversized valves
13mm Oil Pump
Mishimoto Dual row – X Line Radiator
Kelford 272 Camshafts
Induction:
Precision 6262 Factory Location turbocharger @ 40psi
External 46mm Wastegate
Process West Top Mounted Intercooler
Perrin Silicone Inlet Pipe
Exhaust:
PSR Ported Headers
Custom Made Up Pipe and Down Pipe
X-Force Cat Back Exhaust System
Power:
Torque:
Electronics:
Standard ECU tuned by MSR
Carberry E-Flex Sensor with Launch Control, Flt Shift and Anti Lag
Transmission:
Standard DCCD Close Ratio STI 6 Speed
Other Modifications:
Radium Surge Tank
3x Walbro 460 Fuel Pumps
2000cc ID Injectors
GFB Blow Off Valve
Process West Oil Cooler
Peirburg 3 Port Boost Solenoid
What made you decide to modify your car?
It has been something i've always wanted since i bought my first WRX in 2007.
Whats the next stage with your car?
MCA coilovers, rollcage, wheels and tyres.
Do you attend any track days or other racing events? If so how have you done?
Haven't had track time in it yet, we have another sti for that, will be taking it to the drags or roll racing.
Whats your favourite part about the car?
Everything.
What would be your advice for people getting wanting to modify their Subaru?
Make sure you have deep pockets, performance parts add up really quick.