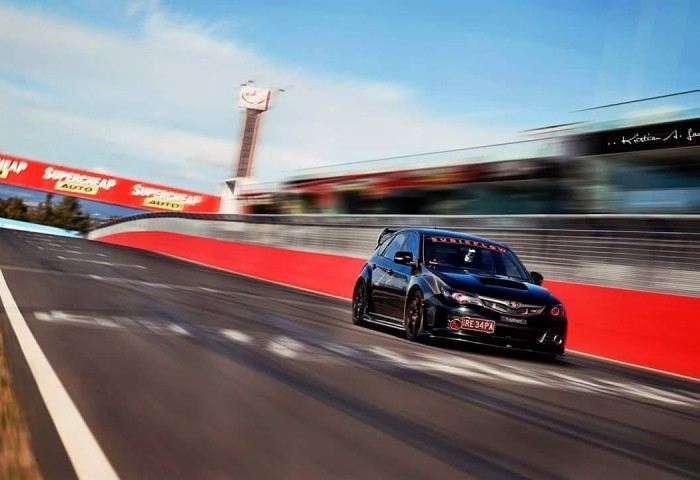 Engine:
MSR built 2.5L
Closed decked block
Forged Internals
14mm Headstuds
Ported heads with 1mm oversized valves
Kelford AVCS Camshafts
Mishimoto Dual Row Radiator
Induction:
Blouch 3.0 XTR turbocharger @ 30psi
Process West Top Mounted Intercooler
AVO Silicone Inlet Pipe
Process West Cold Air Intake
Exhaust:
PSR Ported Headers
Invidia Dump Pipe
Invidia Q300 Cat Back Exhaust System
Power:
Torque:
Electronics:
Standard ECU tuned by MSR
Carberry E-Flex Sensor with Launch Control, Flt Shift and AntI Lag
Transmission:
Stock Subaru STI 6 Speed, 3600lbs Jim Berry Clutch
Other Modifications:
Radium Surge Tank
3x Walbro 460 Fuel Pumps
1300cc ID Injectors
GFB Blow Off Valve
Process West Oil Cooler
Peirburg 3 Port Boost Solenoid
What made you decide to modify your car?
Its something I love doing and have a passion for, putting my own taste on it and making it my own.
Whats the next stage with your car?
Next stages would be, to see how much more power I can safely get out of it.
Do you attend any track days or other racing events? If so how have you done?
I haven't attended any track days, I have attended a fair few Powercruise events and drags events, best drag time at this stage is a 11.2 with almost bold street tyres, looking to get that down to a 10 second pass.
Whats your favourite part about the car?
Appearance wise would have to be the theme, along with all the carbon bits. Perfomance wise would be the take off, which is incredible, and also the handling, the grip that this car has amazes me.
What would be your advice for people getting wanting to modify their Subaru?
Plan everything out first, talk to people that have done it before and get the most information you can – know the end result you want.