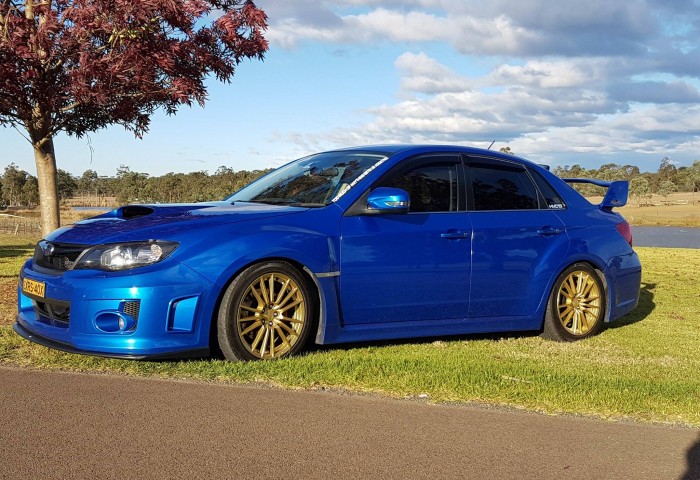 Engine:
MSR built 2.5L
Closed decked block
Forged Internals
ARP Headstuds
Induction:
Blouch 1.5 XTR turbocharger @ 20psi
Process West Verticooler
ProSpeed Racing Silicone Inlet Pipe
Process West Cold Air Intake
Exhaust:
PSR Unequal Length Headers
Invidia Dump Pipe
Invidia G5 Titanium Cat Back Exhaust System
Power:
311kW / E85
282kW / 98RON
Torque:
923Nm / E85
797Nm / 98RON
Electronics:
Standard ECU tuned by MSR
Flex Sensor
Transmission:
Other Modifications:
Deatschwerks DW300 Fuel Pump
ID 1000cc Injectors
Cusco Street Zero Coilovers
Front & Rear Whiteline Swaybars
HEL Braided Brake Lines
What made you decide to modify your car?
At first I wanted to keep the car stock, but after doing a track day with Subaru I knew I needed more. Started with just some basic suspension and brake upgrades and as every car person knows it never just stops there.
Whats the next stage with your car?
The car is my daily so the only other mods on the list is a new radiator and oil cooler.
Do you attend any track days or other racing events? If so how have you done?
I have done a few track days which is what led to the rebuild. Unfortunately every track day I have done the car has never had the right tune or gear in it. The best I could manage around Wakefield was a 1.11. Looking forward to getting it back out there after the radiator and oil cooler.
Whats your favourite part about the car?
The overall look of my car, WR Blue with the gold rims is a classic combo.
What would be your advice for people getting wanting to modify their Subaru?
If its what you love and enjoy do it. Just make sure you have the right gear going in first time round.