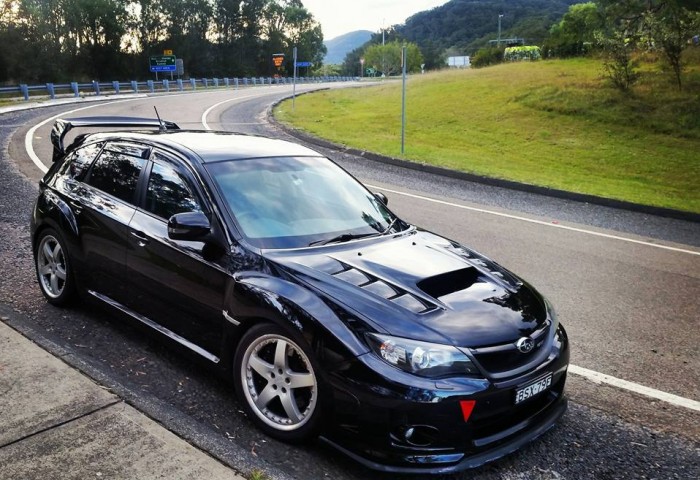 Engine:
MSR designed closed deck block
14mm headstuds
Kelford 282/278 Camshafts
AVCS adjustable inlet cam gear
Tomei adjustable exhaust cam gear
Mishimoto X-line 3 core radiator
Custom MSR catch can system
Induction:
Blouch Dominator 1.5 XTR 10cm
Process West Verticooler
Prospeed Silicone Inlet Pipe
Process West 3″ Cold Air Intake
Exhaust:
PSR Unequal length headers
Invidia G5 Titanium Cat Back Exhaust System with Single Exit (race use)
Invidia Q300 Quad tip cat back (street use)
3″ X-Force Dump Pipe with 100cell Catalytic Converter
Power:
272kW (98ron) At The Wheels
Torque:
Electronics:
Standard ECU tuned by MSR
Transmission:
OEM 5 speed with Hardened transmission mounts, hardened cross member mounts
Other Modifications:
Walbro 460lph pump
Process west TGV deletes
Pierburg 3 Port Boost Solenoid
Bespoke Baffled Sump
Carberry E85 Flex Sensor
ID 1300cc injectors
RCM Sump Baffle plate
High Flow Waterpump
ATTKD Big Brake Kit
What made you decide to modify your car?
I couldn't bring myself to drive a stock WRX, there's I nothing better than the sound of a wound up EJ engine!
Whats the next stage with your car?
STI 6 speed gearbox conversion followed quickly by a built engine all from MSR.
Do you attend any track days or other racing events? If so how have you done?
Yes, frequently in fact in the last 2 years the car has done over 26 track days on its OEM engine, without any issues a testament to the tuning Michael has performed.
Have done quite well, the car is ready now to run very good times, I've just got to make sure I get to the track when the weather is good!. The best part is I have never had engine issues on course which means I get more seat time.
Whats your favourite part about the car?
The outright handling and level of grip is phenomenal!
What would be your advice for people getting wanting to modify their Subaru?
Determine what you want to do with your car and how much driving you're going to do.
If it's track days and getting lap times focus on tyres, brakes and get a solid reliable tune. If it's daily duties then an engine tune is a must, improve your economy and performance all in one hit!.