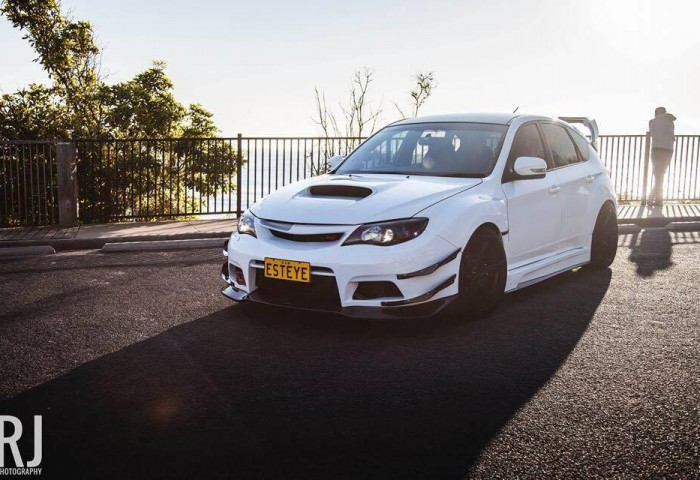 Engine:
MSR built 2.5L
ARP Custom Age 625+ Headstuds
Standard Dual AVCS Heads
Standard STI AVCS Camshafts
13mm Oil Pump
Mishimoto Dual row – X Line Radiator
Induction:
Blouch Dominator 2.5 XTR turbocharger @ 25psi
Internal Wastegate
Front Mounted Intercooler
PSR Silicone Inlet Pipe
Exhaust:
GT Spec Un Equal Length Headers
Invidia Q300 Cat-Back Exhuast
Invidia Dump-pipe with Hi flow Catalytic Converter
Power:
Torque:
Electronics:
Standard ECU tuned by MSR
Transmission:
Standard DCCD STI 6 speed with Exedy HD clucth
What made you decide to modify your car?
The need to go faster and have something hing different to your everyday car.
Do you attend any track days or other racing events? If so how have you done?
The car saw about 4 track events. 3 circuit and one rally sprint.
Car performed amazingly every single event first track putting was to Wakefield Park with the fresh MSR engine and track set up got me a 1.08.2. Definitely had a 1:07 if I'd had another session!
Eastern creek was a 1:51 on the GP?. (competition track)
Whats your favourite part about the car?
The originality and drivability. Perfect running and smooth engine.
What would be your advice for people getting wanting to modify their Subaru?
Modding is an addictive drug. If you whimp out on the first mods and want more later, just go all out as you will save in the end.
Also give your self a goal for the use of your car. Using MSR for a track ready car is a perfect decision as many other tuned and built cars at events blow or have troubles and the MSR cars keep going!